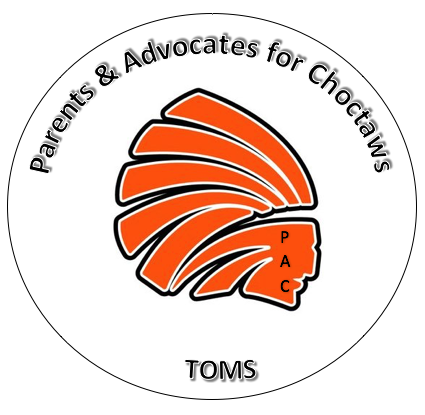 TOMS forms new parent-teacher organization
Stacey Alexander
Tuesday, October 16, 2018
Three Oaks Middle School is thrilled to announce Parents and Advocates for Choctaws also known as PAC. PAC is a parent/teacher organization whose membership includes all parents, legal guardians, and staff at Three Oaks Middle School. PAC's mission is to promote open communication and understanding between parents and staff of Three Oaks Middle School. PAC supports school and family social interactions, disperses fund-raiser profits for supplemental educational materials and student experiences, and provides a non-biased forum for sharing information on issues that impact our children. Our efforts serve to enhance and maximize the education of every child, while aiding them in achieving their highest potential. A strong PAC's is evidence of parental interest and does ensure a better school environment for our children.


We would love for you to take the opportunity to join us in this new endeavor. To sign up for communication related to PAC, please download the Team Reach app and use code TOMSPAC. This will help us communicate with you as we further our plans with PAC.
Finally, we look forward to hosting an apparel fundraiser sale to raise funds for PAC. Please be on the lookout for this information to be sent home.