All Dyer County schools will be closed next week, October 4-8, for fall break. Classes will resume Monday, October 11. We hope everyone has a fantastic break!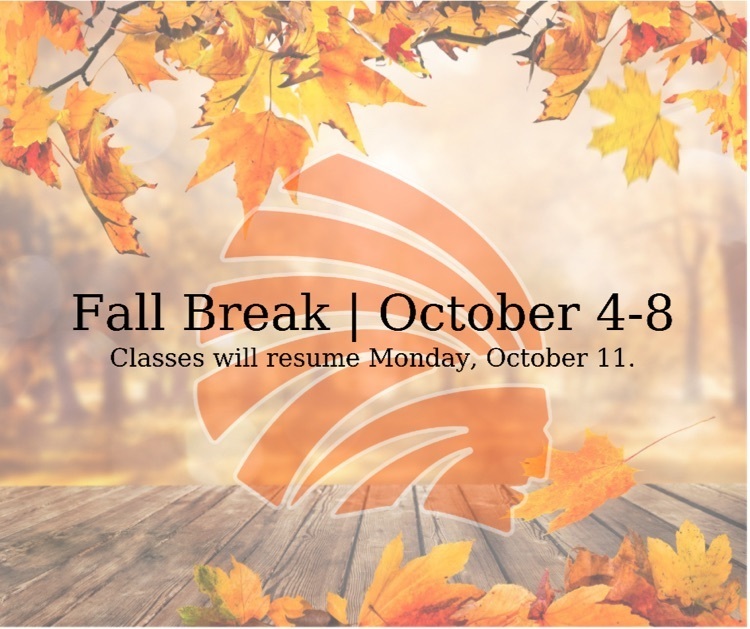 We are HIRING! Visit the Job Openings tab for more information. Join us!

Dyer County Schools: A system-wide, any Dyer County school, summer registration will be held Tuesday, June 22nd at Dyer County High School from 4:00 p.m. to 6:00 p.m. This is for students new to our system wishing to register with any Dyer County School for grades Pre-K-12th. Please bring the following documentation: certified birth certificate, social security number, proof of residency, and the student's last report card. Registration is limited to one parent/guardian.

Tennessee Department of Education announced the free At-Home Decodable Book Series are now available to Tennessee families of kindergarten, 1st, and 2nd grade children to help our youngest learners become stronger readers. This launch is part of the family component of the state's Reading 360 initiative to help boost strong reading skills amongst Tennessee students. Click Menu and then Click Online K-2 Resources for more information.
The Dyer County Health Department has Covid vaccines available. Please see the image below for details.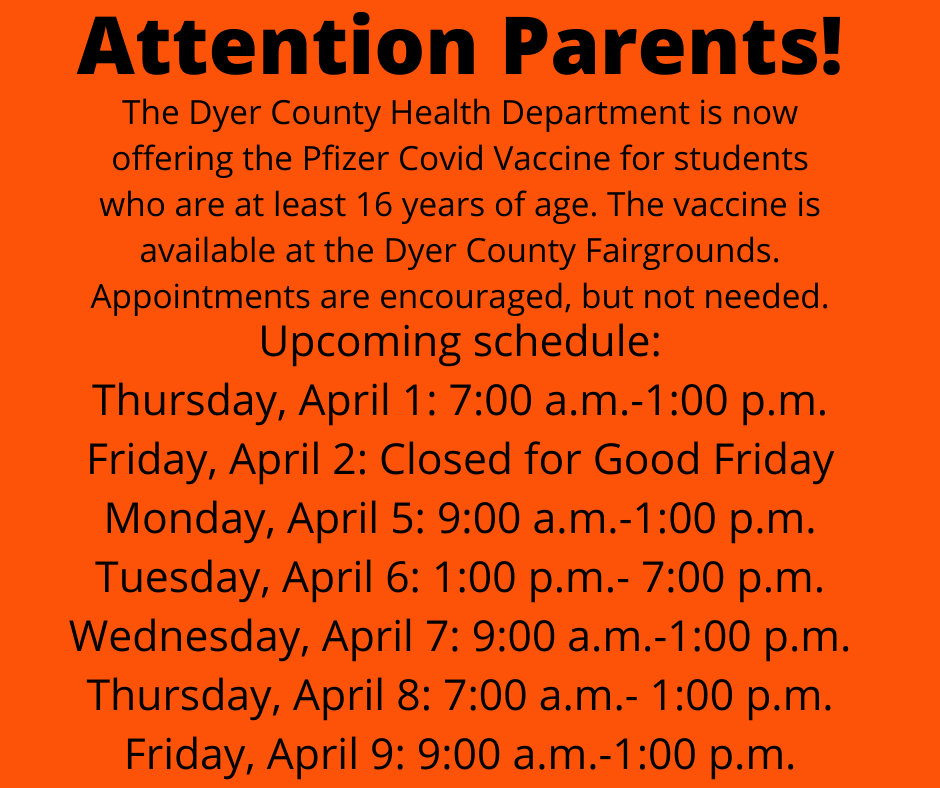 School will be in session tomorrow, Tuesday, February 23, 2021.
No school tomorrow for the Dyer County School System.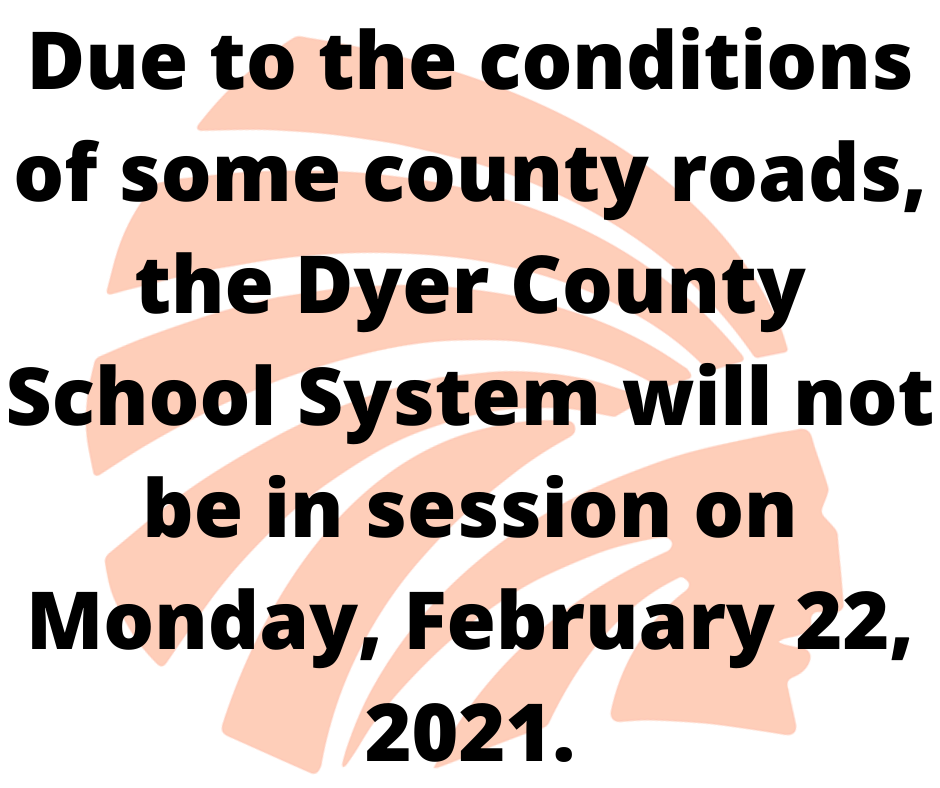 The Dyer County School System will be closed Thursday, February 18 and Friday, February 19 due to inclement weather.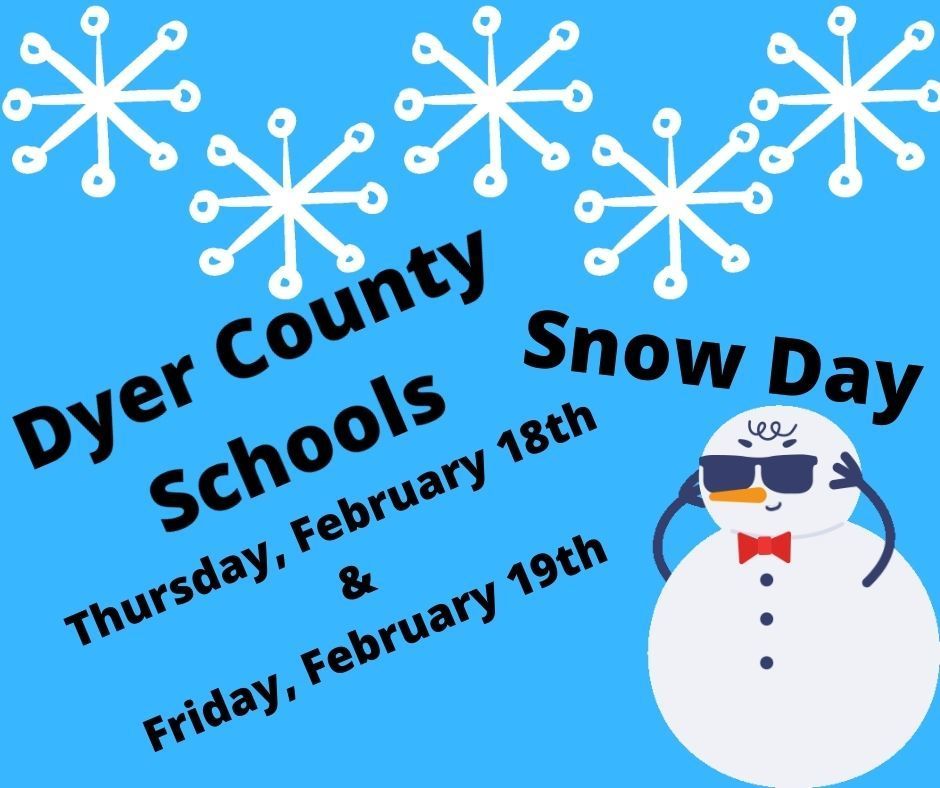 Snow Day!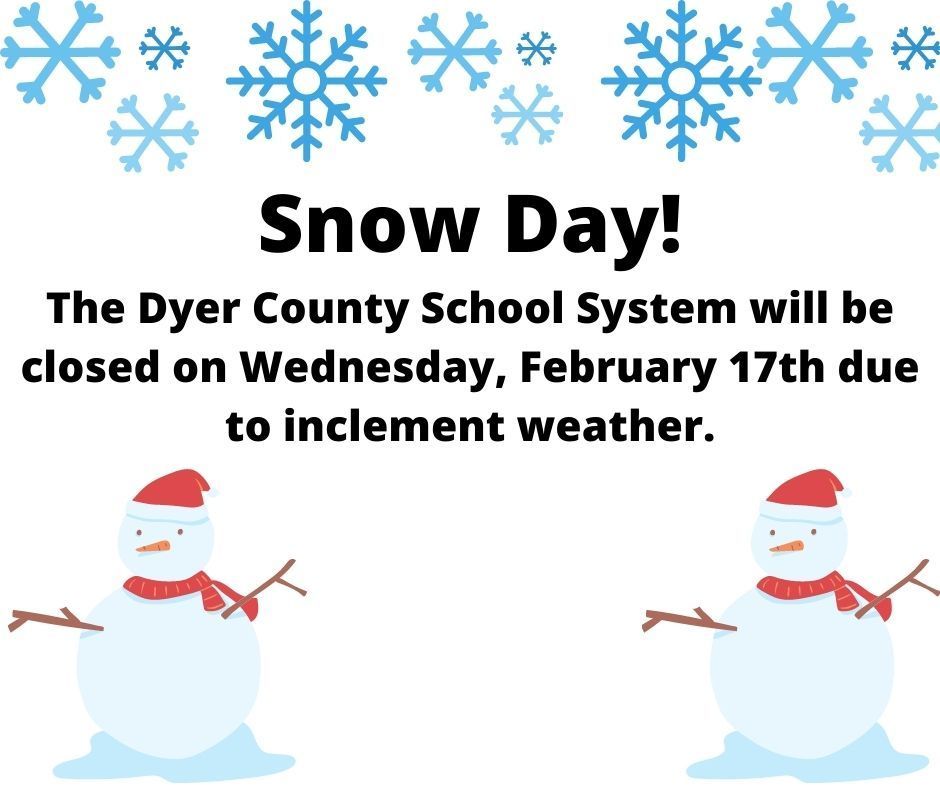 Snow Day!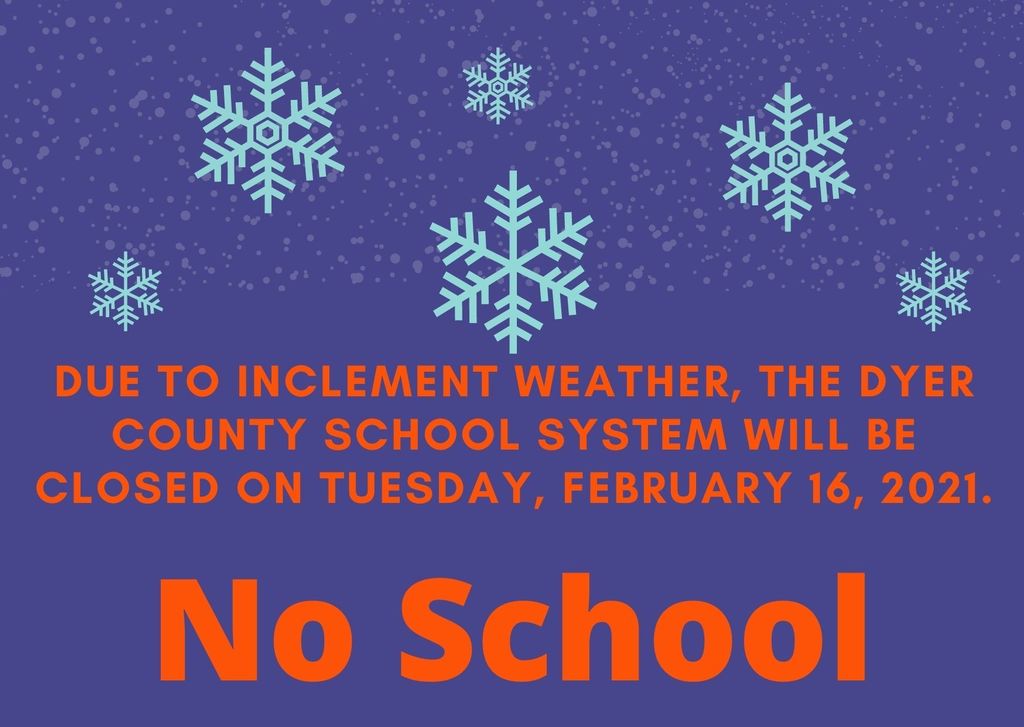 Due to changes in the upcoming inclement weather, Dyer County Schools will close school on Wednesday, February 10 at 12:30 pm.  Decisions for the remainder of the week will be made as soon as possible and posted to social media outlets.
Please see the attached image for the most recent information regarding the Dyer County School System's reopening plan. If you have questions about this plan, please send an email to
dcreopening@dyercs.net
. As outlined earlier this week, the Dyer County School System's first week (August 3-7) of school will follow the staggered schedule as planned. All schools will operate under Phase 2 beginning the week of August 10. Each Thursday afternoon, Dyer County Schools will announce the phase for the following school week. Your support for our Choctaws continues to be greatly appreciated. Once a Choctaw, always a Choctaw!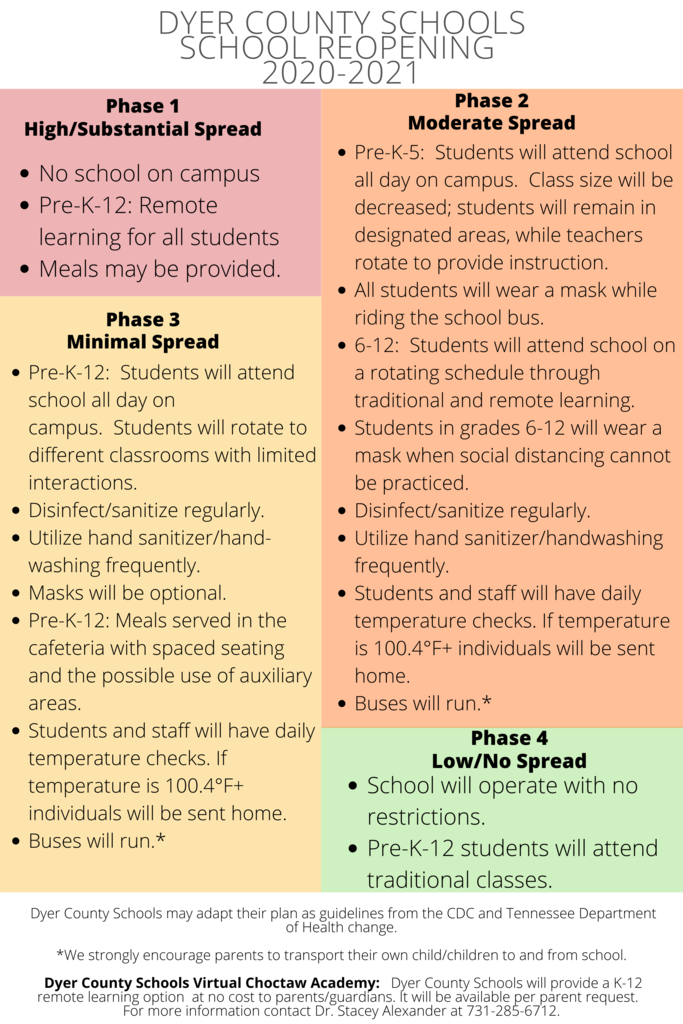 The Dyer County School System plans to release two Frequently Asked Questions documents early next week. One document will answer questions about school reopening and the other document will be specific to Choctaw Academy. If you have a question that might need to be included in either of these documents, please email that question to dcreopening@dyercs .net.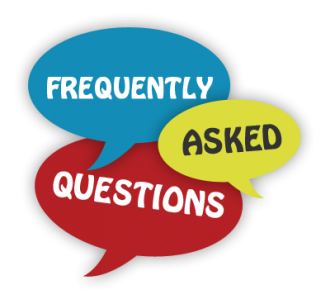 All Dyer County Schools will hold an early registration on Tuesday, July 14 from 9:00am-1:00pm. This is for students new to our system. Please bring the following documents: certified birth certificate, social security number, proof of residency, and the student's last report card.
If you plan to register your child in the Choctaw Academy, please click the link below. The Choctaw Academy is our new, online learning option, which is available for all Dyer County students.
https://bit.ly/2VCKMEH

Congratulations Dyer County High School, Trimble Elementary, and Holice Powell Elementary for being named 2018-2019 Reward Schools by the Tennessee Department of Education!
The last day of school for all of Dyer County Schools is Tuesday, May 21, 2019. School will dismiss at 11:00am. Buses will run and no lunch will be served.
All Dyer County High Schools sports competitions have been cancelled for today, Thursday, April 18. Rescheduled Track @ Arlington, Friday, April 19 Soccer @ Brighton, Wednesday, April 24 at 5:30 Softball versus Hardin Co. @ Freed Hardeman University, Thursday, April 25 at 5:00 Double Header Tennis versus South Gibson, Friday, April 26 at 3:30
Dyer County Schools will register children for the Pre-K classes on Thursday, April 11, 2019 from 4:00 p.m. - 6:30 p.m. and on Friday, April 12, 2019, from 8:30 a.m. - 2:30 p.m. at the Milton McGee Auditorium, 159 Everett Ave, Dyersburg. Applications will be available the day of registration. Your child must be four years old by August 15, 2019, to be eligible for the program. If you are interested, please bring the following information with you the day of registration: Child's Certified Birth Certificate (not the Mother's Copy) Child's social security number Proof of income for ALL adults in the household Child's most current physical and shot record (TN shot form) Proof of residency (utility bill or lease) *Please remember, applying for the Pre-K program does not automatically enroll your child. Notification letters will be mailed June 5th. Please bring your child to registration if possible. Vision, speech and hearing screenings will be conducted.